Panagiotis Manesiotis
The Power List 2018
---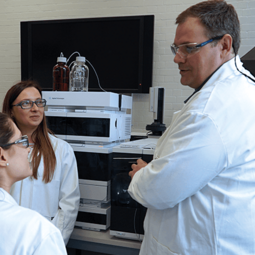 Panagiotis Manesiotis
Senior Lecturer in Analytical Chemistry, School of Chemistry and Chemical Engineering, Queen's University Belfast, UK.
Early inspiration
Growing up, I was always curious to discover the inner workings of everyday items. As a researcher, I worked beside inspirational academics who ignited my passion to convey knowledge and communicate science. An academic career in analytical chemistry means I can do what I love as my day job!
Research
I work on the development of materials and sensors to tackle some of the biggest present and future challenges, such as water quality, nutrient management and sustainable chemical and agri-food production, using my expertise on the interface of analytical, materials and supramolecular chemistry, and collaborating with microbiologists and environmental engineers.
Greatest achievement
The development of a handheld, inexpensive, disposable sensor for phosphate, made predominantly using biodegradable materials. It is able to signal the presence of the nutrient in concentrations under 1mg L-1 in soil, agri-food waste and water streams via a real-time color change and without the requirement of additional chemical reagents or power.
---