Sergio C. Nanita
The Power List 2018
---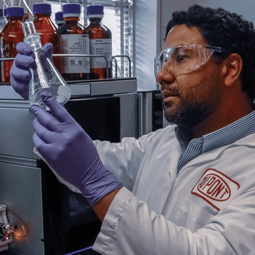 Sergio C. Nanita
Principal Investigator, DuPont Industrial Biosciences, Wilmington, Delaware, USA.
Early inspiration
I chose industry because its fast-paced R&D delivers products that improve quality of life. It has been gratifying to contribute fit-for-purpose innovations in analytical sciences, while experiencing the entire product commercialization process.
Research
As a mass spectrometrist, my current research focuses on developing state-of-the-art analytical methods and providing chemical structure elucidation expertise for the discovery, development, and support of products from various businesses segments of DuPont Industrial Biosciences, from Biomaterials to
Animal Nutrition.
Scientific heroes
My most influential mentor is R. Graham Cooks (Purdue University, USA).
Objective
Develop and apply effective analytical chemistry solutions to advance DuPont R&D programs and deliver renewable
bio-based products that benefit society and the environment.
Nominator comment: "Sergio has established himself as a leader in the analytical sciences. He is well-known for his efforts toward demonstrating flow injection MS methods, particularly in quantitative analysis of pesticides. He truly enjoys what he does and makes time to mentor other people within Dupont and outside of the company."
---