Livia S. Eberlin
The Power List 2021
---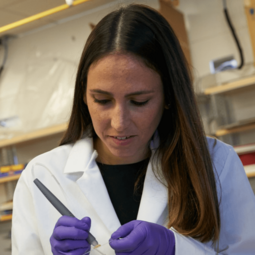 Associate Professor, Baylor College of Medicine, Houston, TX, USA
Biggest breakthrough? Advancements and the availability of high resolution MS instrumentation that allow incredible sensitivity and chemical specificity has really expanded our ability to perform molecular analyses of complex biological samples in a way that is extremely powerful for disease diagnosis, but also to identify molecular changes that were before undetectable. If I compare the first mass spectra I acquired from human tissue in my PhD to the data we get today from the same samples, it is truly mind blowing to see how many more molecules we can not only detect (over 30 times more!) and chemically characterize today!
Single biggest challenge… In the field of MS in particular, I think the pandemic has shown us that MS instrumentation is still behind in terms of robustness, user friendliness, and portability when compared to other molecular-based technologies - like PCR. So a current challenge is how to make MS instrumentation truly user-friendly and thus broadly expand its use in society.
Heroes/mentors? My PhD adviser R Graham Cooks is one of my greatest inspirations as a scientist. His creativeness, innovation, and boldness in promoting MS technologies in many fields have greatly impacted my career and shaped my desire and passion in applying and developing direct MS techniques to solve critical problems in health-related research.
photo credit: MacArthur Foundation
---