Elena Stashenko
The Power List 2016
---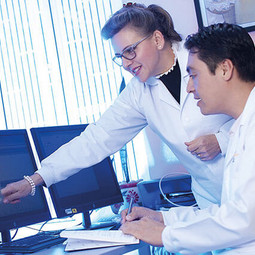 Elena Stashenko
Director, Research Center for Biomolecules - CIBIMOL Research Center of Excellence, CENIVAM Universidad Industrial de Santander Bucaramanga, Colombia
Passion: For more than 25 years, our research has been centered on the study of tropical plants and their secondary metabolites. I'm passionate about the study of the biodiversity of tropical vegetal species through the prism of chemical substance analysis, which is to say, the products of their secondary metabolism. Discovering through chemical analysis the structures, origins and functions in plants is a formidable challenge that requires the participation of many experts (botanists, biochemists, physiologists, ecologists, many others). This long path starts with reliable instrumental chemical analysis, which makes my job very important in this fascinating field of plant metabolomics, their interaction with the environment, and their evolution. I am also passionate about working and doing science in a developing country that is in the process of building its science and technology system – a country with many socio-economic and political problems but where young people are enthusiastic, curious for knowledge, with a desire to progress and overcome difficulties. In this environment – where science is not yet a priority – it was far from straightforward to organize our research facilities with cutting-edge technologies.
Pivotal moment: My pivotal moment was the approval of a project to create a Research Center of Excellence dedicated to the study of Colombia's biodiversity and to establish the scientific support base for the development of an agro-industry of essential oils and related products. The project permitted the creation of a network of 15 research groups at more than 10 universities, whose work is coordinated by our research group, the Research Center for Biomolecules.
Prediction: A very important development in our research field is the complete on-line characterization of complex mixtures by the coupling of liquid chromatography with gas chromatography and mass spectrometric detection systems, which makes it possible to isolate individual mixture components for further spectroscopic analysis or bioassays.
---