Karen Faulds
The Power List 2016
---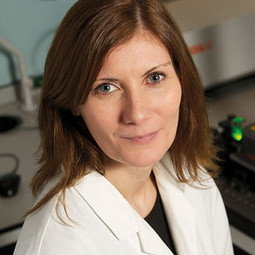 Karen Faulds
Professor, Department of Pure and Applied Chemistry, University of Strathclyde, Glasgow, UK
Passion: I am most passionate about multidisciplinary research and the role that analytical science can play at the interface between the different disciplines; in particular, the application of analytical techniques and methodologies to bioanalytical applications. I am most interested in the detection of disease related markers and in developing imaging techniques that have potential to be used to diagnose, predict or monitor disease progression in a sensitive and multiplexed manner. To solve the complex problems involved, we must build multidisciplinary teams of chemists, biologists, physicists, engineers and clinicians. I am also passionate about training the next generation of analytical scientists who are experts in multidisciplinary research.
Pivotal moment: After doing my PhD on the detection of drugs of abuse using SERS, I started a postdoctoral position with Duncan Graham on the detection of DNA sequences using SERRS. At this point, I realized how interested I was in bioanalytical applications of analytical chemistry and the potential for having a real impact on people's lives through improved disease diagnosis or monitoring disease progression. For me, research has always had to have a clear application and one that will benefit society, and it was during this time that I decided to pursue a career in academic research rather than move into industry.
Prediction: With the advent of the impressive array of miniaturized components – lasers, detectors, computing – I think over the next five years there will be some very impressive miniaturized spectrometers developed that will be game changing in terms of how and where they can be used. Equipment that is currently benchtop will become handheld, portable and battery-powered without losing capability – and costs will be reduced. These advances will enable the creation of complete solutions, consisting of simple devices and assays, that can be used at the point-of-use in clinical applications and in the developing world.
---