Georg Ramer
---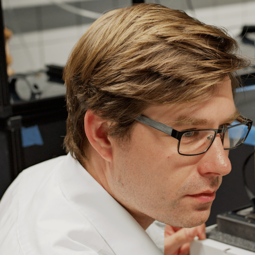 University Assistant, Institute of Chemical Technologies and Analytics, TU Wien, Vienna, Austria
Secret to success? I wasn't that good at chemistry during my undergrad – I lit my hair on fire in my first analytical chemistry lab course and had a hard time learning named reactions and tables of physico-chemical properties that seemed to come easy to others. In my free time, I started looking into things that were more interesting and came more easily to me than chemistry: math, programming, tinkering with electronics.
In the Austrian university system, switching from chemistry to another undergrad curriculum would have meant losing most of my already accrued credits, therefore I had decided to finish as quickly as possible and move on to something else.
When I started looking for a thesis project I found a group in the chemistry department who built their own optical sensors, needed programming for lab automation and data evaluation, and, overall, were using all the things that were hobbies to me for their actual research.
The group lead, Bernhard Lendl, offered me a project based on my enthusiasm alone. In his group, I was able to take on projects I found interesting, to spend long evenings coding or tinkering with valves and pumps and turning data into pretty plots. Instead of switching to a different field or dropping out of academia I ended up going for a PhD in analytical chemistry. Here, Bernhard, again, supported me by writing two joint proposals that enabled me to start working on nanoscale IR spectroscopy – an area that his group hadn't been active in before.
The second, equally important factor in my success has been my partner. Academia is hard on relationships but having someone at my side who is also in academia and has the same long working hours and the same requirements for multiple year-long stays abroad helps. More importantly, having someone at my side who can give well founded critical feedback on ideas, who is my complement in many ways (effective where I tend to go on flights of fancy; knowledgeable and experienced in chemistry, bio-chemistry and process analytical technology where my strong suite is coding and tinkering) and who enjoys spending Sunday brunch brainstorming new ways to shoot lasers at samples has been the one thing that has been crucial for my career.
---