Katelynn Perrault
---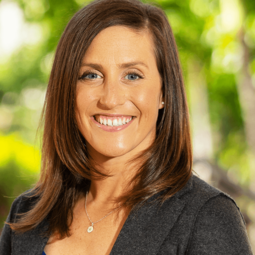 Associate Professor, Forensic Sciences and Chemistry, Laboratory of Forensic and Bioanalytical Chemistry, Chaminade University of Honolulu, USA
Predictions? One of the big shifts I think we will see over the next 5–10 years is a reduction in our reliance on helium in the world of gas chromatography. I've been having a lot of trouble sourcing helium and when it is available, the costs are increasing exponentially each year. I would love to see a shift to more sustainable approaches to gas chromatography, involving the use of different carrier gases that can be generated in the laboratory. There is already a large national funding focus on reducing and recovering helium in other instrumentation areas, e.g. NMR and FT-ICR, but I think we'll see this translate to GC instruments really soon since we are significant consumers of this resource. Luckily, gas generators have come a long way and can provide reliable, clean, and high flow rates required to use them in chromatography. I am curious to see the distribution of gases being used by laboratories in the next five years and how this differs from what we see now. I personally don't think I'll ever purchase another GC instrument without the capability for hydrogen carrier gas use and a hydrogen generator!
Controversial opinion? Optimization is a really important tool in chemical analysis. But – one has to know when "good enough" is sufficient. Sometimes we have to sacrifice the use of fully optimal settings to make our lives easier and be more productive. That might sound like bad science, but it is really important in a lot of the work I do because we typically need to deal with batch analysis and high throughput data processing. We might choose to take a slightly less-than-optimal column selection to prevent downtime in changing hardware or to avoid issues brought on by retention time shifting after column changes. We may choose to limit our mass spectrometry mass range in an attempt to reduce data size for downstream batch processing. It is something we battle when going through peer review – but ultimately, what is best for a single project is not always best for long term instrument function or productivity. Sometimes we have to accept that "good enough" is actually synonymous with "fit for purpose," a term that I tend to much prefer! I don't think everyone will agree with me on this, and I know it can be a point of contention with reviewers of manuscripts when they are viewing a single study in isolation from the bigger picture of a large research platform.
Secret to success? I had a few amazing mentors who taught me several really important lessons. First, they taught me to work with a sense of urgency. This has served me well in my role since I feel that, as faculty, we are often pulled in so many directions at once. Learning to focus on which direction merits urgency has been extremely helpful in my career. Second, they taught me to always treat important things as if they are important. This has really helped me to manage team projects and interpersonal relationships in my career. Lastly, they taught me to always keep an open mind when it comes to connections. I still feel some of my best opportunities came about because of unintended effects of networking that resulted in something truly great down the road. I'll add that I'm still actively listening for these "golden tidbits" of advice in my career – the things that help you step back and look at the bigger picture. I still feel like I'll always be learning how to infuse efficiency and happiness into my work.
---