Martina Catani
---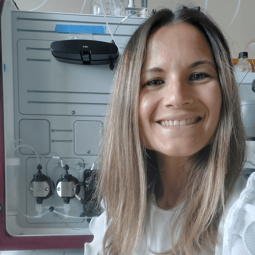 Assistant Professor, Analytical Chemistry, Department of Chemical, Pharmaceutical and Agricultural Sciences, the University of Ferrara, Italy
Predictions? As industrial sustainability is becoming the driving force behind decision-making for new products and new methods, it is my opinion that future developments in the field of LC will be devoted to the replacement of harmful solvents with greener alternatives (bio-based or supercritical fluids) and to the reduction of solvent consumption. To this end, I envisage smaller columns and equipment being employed to minimize the volume of solvents and samples needed for the separation. I expect that miniaturized solutions will be increasingly used, including hand-portable instruments suitable for high-throughput real-time monitoring. The development of these approaches will be also possible thanks to the advancements in 3D printing technology applied to LC.
Secret to success? I think that a fundamental step in the early part of my career was spending research periods abroad. I had the chance to work in multi-ethnic groups in three different countries. These experiences have helped me a lot – not only to develop scientific skills in leading groups in the field of LC, but also to improve independence and open-mindedness – dealing with different people, cultures, and situations.
Advice? My first advice is to never give up! The first step to becoming a researcher is to get a PhD – a track that can be characterized by many "ups and downs" – you can either feel euphoric or very depressed but, in the end, you will be able to reap the fruits of your own efforts. Finally, I think it is crucial to understand, from the beginning, that science is not an individual activity – teamwork can and does make science work better.
---