W. Russ Algar
---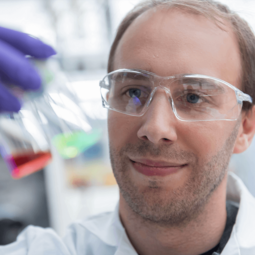 Department of Chemistry, University of British Columbia, Canada
Challenges? I think translation is one of the biggest challenges. Yes, as an academic researcher, I would argue that curiosity-driven research is equally important, but I would also argue that my peers are already quite good at it. The gap between the research lab and societal application has always been one of the largest to bridge. There is a lot of impressive capability in analytical science, but how do we make it practically useful in society? For example, the selective detection of single molecules and single cells are great achievements for analytical science, but technologies, workflows, and data interpretation are non-trivial. When and how will a physician or a grocer be able to routinely harness these advancements to check the health of their patients or ensure that their produce is safe to eat?
Advice? Be a flexibly stubborn researcher. Don't be so focused on a particular goal that you miss out on unique opportunities or interesting detours. Hit pause on ideas from time to time, but don't give up on good but challenging ideas that take time to realize. And, even though quantity sometimes looks more impressive, don't compromise on quality. Good scientists still appreciate other good science more than anything else.
Mission? To feel like I know what I'm doing? I've been a principal investigator for 10 years and there is still a lot of flying by the seat of my pants and wondering how I'll keep things going through the next year. Even if I don't figure the job out entirely, the main goals are for my team's research to continue its positive growth and to see some of our work take steps to translate from the lab to society.
Controversial opinion? HPLC-MS can't do everything!
---