Flavio Antonio Franchina
The Power List 2018
---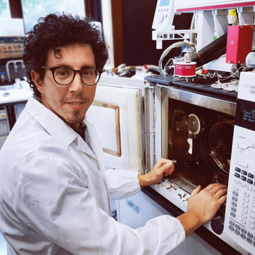 Flavio Antonio Franchina
Postdoc researcher, Division of Organic and Biological Analytical Chemistry, University of Liège, Belgium.
Research
As part of a challenging project involving other excellence centers (Bruxelles, Leuven, Ghent), we aim to evolve and establish innovative analytical methods, making them accessible and straightforward for environmental/life science applications.
Greatest achievement
Receiving the Phillips Award for my contribution to the field of comprehensive two-dimensional gas chromatography (GC×GC). It is a tribute to my mentors, who made it possible with their teaching and passion.
Objective
Consolidating advanced analytical methods with robust sample preparation and improving our understanding of the already information-rich data we collect with modern instrumentation.
Advice
Be solid with fundamentals first, then there is no fear in exploring new fields.
Nominator comment:"He is a very promising scientist in the field of comprehensive gas chromatography. Despite his young age, he is a great mentor and teacher for graduates and undergraduates entering the lab."
---