Victoria Samanidou
---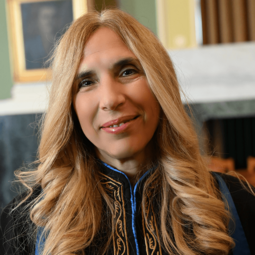 Professor of Analytical Chemistry, Aristotle University, Thessaloniki, Greece
Qualities of a successful mentor or educator? Enthusiasm for their scientific field. When a mentor is passionate about their topic, the mentees are inspired and challenged to experience a similar path.
Attracting talent… By empowering, encouraging, and acknowledging the abilities and efforts of scientists, we can invite interest to our field – showcasing the most significant section of chemistry and the wide range of applications it brings to many scientific fields. Additionally, we must ensure that no discrimination is allowed in the lab. Science is for everyone – the inclusion of diverse genders, races, nationalities, sexual orientations, and identities is indisputable. Analytical techniques should also be accessible for individuals with visual or other impairments using the suitable educational material. This allows talented students among disabled groups to be included in research teams.
Biggest challenge facing the field? Portable instrumentation for field analysis and finding greener processes that won't require sacrificing performance and applicability.
Most exciting development or trend?Two-dimensional liquid chromatography.
Missing from the analytical toolbox? A universal sample preparation technique compatible with all matrices, analytes, and techniques.
A book for scientists? The Nicomachean Ethics by Greek Philosopher Aristotle. The book is one of his best known works, distinguishing two types of virtue: intellectual and moral. Science arises from learning, taking time and experience to acquire – with teachers playing a crucial role. Whereas moral virtue is developed through habitual behavior and the responsibility to cultivate it lies within oneself.
---