Coral Barbas
The Power List 2016
---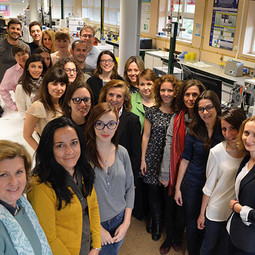 Coral Barbas
Full Professor in Analytical Chemistry and Director for the Centre of Metabolomics and Bioanalysis (CEMBIO), Department of Chemistry and Biochemistry, Faculty of Pharmacy, Universidad San Pablo CEU, Madrid, Spain
Passion: We are living through a change in research paradigms and analytical chemistry is playing a main role in this change. From a reductionist approach based on hypothesis testing, we have moved in the 21st century to a holistic approach through "omics" technologies, where we try to catch everything and then interpret the results, trying to find answers to our research questions. The opportunities to discover things that nobody thought about are incredible. In that process, many rules in analytical work are changing, but... as the person responsible for the information obtained, you must be very careful. Now the challenge is proposing new workflows and validation strategies that ensure the results.
Now, more than ever, analytical chemistry is the "central science" and research is multidisciplinary, with collaborations among physicians, biochemists, biostatisticians, pharmacists and chemists the only way to approach the difficult problems that are still unsolved. That opens an exciting world of opportunities to learn not only in science, but also in human relationships.
Pivotal moment: Coming from the tight pharmaceutical analysis world, I always thought that analytical chemistry had more value to add than just producing a method with 100 percent recovery and <1 percent RSD; even more so when we consider the increasing capabilities of new technologies. I applied for a Marie Curie fellowship and I thought that it should be to do something really new. I heard about the last tool in the omics toolbox – metabolomics, which was quite new at that time – and spent a year being introduced to the methodology. Once back to my lab, we only had very simple instrumentation, and our group started to do metabolomics with capillary electrophoresis and UV detection – 'where there's a will there's a way!' We had the proof of concept of the capabilities and thanks to a fantastic team of committed, enthusiastic and hard-working people and the support of different entities and people – to whom I am really grateful – we succeeded in having a state-of-the-art metabolomics lab.
Prediction: Different omics have been evolving separately but real integration of our knowledge of the biological systems can exponentially increase the final result. That is part of bioinformatics, but also a big part of open minds in research willing to explore worlds that are not familiar to them. From a completely different point of view, I think that a deep knowledge of the interaction of the gut microbiota with the host can modify the way we approach many diseases and can produce an important turning point.
---