Joaquin Rodriguez Lopez
---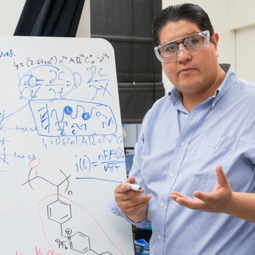 J. Andrew and Susan S. Langan Professorial Scholar, and Associate Professor of Chemistry, University of Illinois Urbana-Champaign, USA
Challenges? Figuring out ways to electrify as many technologies as make sense to turn the tide on anthropogenic greenhouse gas emissions. My group's grain of sand to this major challenge is to introduce new ways to observe, understand, and re-invent electrochemical interfaces using tools of analytical and materials chemistry. We have much to learn about controlling electrode-driven reactions at the nanoscale and over broad timescales, and especially understanding chemical intermediates. I think this last aspect is crucial as we must find a common challenge for chemists and other nanoscience researchers from diverse backgrounds to tackle. Uncovering interesting chemical problems that bridge these sciences will allow us to make better interdisciplinary teams that can better tackle this fascinating challenge of electrifying chemistry.
Secret to success? Mentors that cared about me and that were interested in helping me accomplish my objectives. I was fortunate to have Irene Luna in high school who encouraged me to study chemistry, Marcelo Videa in Mexico who encouraged me to do a PhD in the USA, Allen J. Bard who taught me to think creatively about electrochemistry and who truly cared about my next steps, Héctor Abruña who gave me all the tools and confidence to build my program, and among many, Jeffrey Moore who helped me navigate my most critical experiences as a young assistant professor. I am indebted to these great professors and scientists – and many others – who have helped me realize my value and pushed me to achieve excellence.
Advice? Actively seek a network of people and mentors that can help you propel your career. Regardless of what scientific problems you pursue or your sources of funding, make sure you have room to pursue topics that interest you personally, beyond the influence of current trends or what is "hot." Diversity also means introducing new ideas that are generated in the long, integrative process of becoming a scientist. I've found some of my greatest satisfactions – and the things that motivate me to work at my best – come from problems I have been slowly stewing on for decade(s!).
Image courtesy of Argonne National Laboratory
---