Fields & Applications
Gas Chromatography,
Liquid Chromatography,
Polymers
Science Without Borders
Working (and living) behind the Iron Curtain wasn't easy; fortunately, good chemistry is applicable all over the world.
Frantisek Svec |
I started my academic career as an assistant professor at the University of Chemical Technology and then as a scientist at the Institute of Macromolecular Chemistry of the Czechoslovak Academy of Sciences, both in Prague. Established by renowned chemist Otto Wichterle – and largely supported by royalties from the licensing of his work on soft contact lenses – the institute integrated the best Czech minds in the field of polymer preparations and separation applications, including Jiři Čoupek, Mirek Kubín, Josef Janča, Jiří Štamberg and, guru of macroporous polymers Karel Dušek (1). I learned a great deal from working alongside these talented people.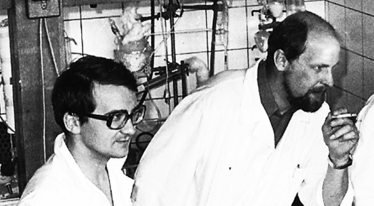 In the early 1970s, I started my own research into the development of reactive porous particles designed for applications such as polymer-supported reactions, heterogenized catalysts (including immobilized enzymes as well as fishing-out and chelating resins), and for both liquid and gas chromatography.
We came up with the idea of using glycidyl methacrylate, a reactive monomer that had never before been used for this application. Typically, we copolymerized this monomer with an ethylene dimethacrylate crosslinker in the presence of porogens cyclohexanol and dodecanol to obtain macroporous beads. These last components remain very popular porogens in the preparation of both porous particles and monoliths, even today. We learned methods enabling control of particle size and porous properties, permitting a variety of functionalization processes involving the epoxide functionality of the monomer, and tested various applications.
Separated (sometimes)
We were "separated" from the West, but we had rich collaborations with the Eastern Bloc countries, as this type of travel was prioritized. For example, thanks to the unique reactive porous polymer beads we were developing, I did some very rewarding work with scientists in Moscow and what is now St. Petersburg, as evidenced by numerous joint publications.
As our polymers were new, publishing our results was relatively easy – but, unfortunately, we were not aware of variations in journal quality and instead published our results in whichever journal was easiest. We also failed to appreciate the importance of writing review articles summarizing our work and putting it into context. Thus, many of our studies that could have been considered "world class" fell into oblivion and did not receive the attention they deserved.
High-caliber scientists from all over the world came to visit us, and conferences organized in the Institute of Macromolecular Chemistry attracted an international audience, even during the Cold War. The Academy of Sciences also supported travel (to a limited extent) to conferences outside the Iron Curtain; however, people who did not have a good "pedigree" were not so fortunate. This inequity was particularly apparent after the Prague Spring in 1968, during which many people were engaged in activities later considered to be against official policy. Many excellent scientists could not travel for this reason. Some young scientists were allowed to do postdocs in the West, but their families were not allowed to go with them, and were instead "held hostage" in their home country...
A barter economy
Funding was straightforward, but problems arose from the lack of "hard currency". For example, the importing of chemicals had to be planned up to a year in advance. Of course, knowing which chemicals or instruments I might need in a year's time was "mission impossible"! So we ordered chemicals we believed we might need, kept them in our labs and engaged in 'horse trading' with other labs. When we needed something, we asked our friends in the institute or in other locations, and they did the same with us. Amazingly, this worked! The only problem was that our storage was full of chemicals for bartering. Sometimes, if we couldn't get hold of a certain compounds, we had to synthesize it in the lab; I vividly recall carrying out the large-scale preparation of liters of glycidyl methacrylate.
A bright future
Despite the difficult political climate, I chose not to leave the country, and I feel it was a good decision. My wife and I had good jobs, although the overall economic situation of my family was of course worse than that of our peers in western countries. My kids went to school, got an education, and grew up among their friends. Plus, illegal emigration would have meant significant problems for family members who remained. I decided to relocate to the United States only after the children were grown and the move was legal.
Some were allowed to do postdocs in the West, but their families were not allowed to go with them, and were instead 'held hostage' in their home country.
The situation is completely different these days. The Czech Republic is now a member of the EU with free movement and employment within member states, and Czech scientists work in labs around the world. Many of the world-class separation scientists born in the Czech Republic have chosen to continue their work there and those who decided to leave are very proud of their origin. Thanks to their excellent education in analytical sciences, they are welcomed even in the most famous labs – and when they return to their homeland they enhance the quality of research and education there. I believe the future of separation science in the Czech Republic is a bright one.
Frantisek Svec lives in California and is Professor at the Beijing Advanced Innovation Center for Soft Matter Science and Engineering, Beijing University of Chemical Technology, Beijing, China and at the Department of Analytical Chemistry, Faculty of Pharmacy, Charles University, Hradec Králové, Czech Republic. He received a BSc in chemistry and PhD in polymer chemistry from the Institute of Chemical Technology, Prague (Czech Republic). In 1976 he joined the Institute of Macromolecular Chemistry of the Czechoslovak Academy of Sciences, before joining the faculty at Cornell University in 1992. In 1997, he was appointed at the University of California, Berkeley and also affiliated with the Molecular Foundry of the Lawrence Berkeley National Laboratory. Svec has authored 450 scientific publications, edited two books, and authored 75 patents. He is editor-in-chief of the Journal of Separation Science, member of editorial boards of a number of renowned journals and was President of CASSS in 2003–2015. He is best known for his research in the area of monoliths and their use in liquid chromatography, electrochromatography, supports for solid phase chemistry, enzyme immobilization, and microfluidics.
Receive content, products, events as well as relevant industry updates from The Analytical Scientist and its sponsors.
J Seidl et al., "Macroporous styrene divinylbenzene copolymers and their application in chromatography and for the preparation of ion exchangers", Adv. Polym. Sci., 5 (1967) 113.