Fields & Applications
Pharma & Biopharma
From Analytical Chemistry to Computers
Can games be used to predict human behavior – such as unethical decision making in a pharmaceutical production environment?
Robert Lodder | | Opinion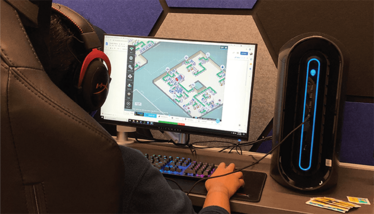 I received my PhD in analytical chemistry from Indiana University Bloomington, but I really enjoyed combining computers and chemistry. Over time, I became good at using computers, and I even won first prize in an international IBM supercomputing competition in the life science division. I've spun out a few drug and medical device companies from academia, and I've also worked on projects with the likes of DARPA and the Department of Homeland Security. For example, Homeland Security had an analytical method they wanted to test to look for chemical weapons being placed in the US food supply. We came up with a gaming approach that used simulated attacks to test their method (in some cases proving the analytical method wouldn't work).
Such gaming approaches can be used in many different industries – and I've been working with Heather Campbell to show how gaming can be used in drug quality.
The University of Kentucky Hospital is the only hospital in the US that has a regular, full-time program analyzing incoming injectable drugs before they are used. The program was launched in late 2019 and testing began during the pandemic. The program has found a number of potential problems that have already been reported to the FDA through MedWatch and Citizen's Petitions as well as published (see Drugs With Reported Problems below). Pharma companies must adhere to GMP and GLP – and there are regulatory inspections to enforce this. In her research, however, Heather read that Valisure (a company in Connecticut that tests oral dosage forms) found around 10 percent of drugs have something wrong with them.
Drug companies often buy their ingredients from China or India. Companies will look at the label, the chain of custody, and then test the ingredient, too, before using it. On the other hand, when a pharmacy receives a drug, they look at the label and the chain of custody only – and then use the drug. If we want to eliminate the last 5 to 10 percent of problems, pharmacies need to test drugs on-site before they are used. And if the drug isn't right, they need to send it back to the manufacturer and tell them to try again! We should not assume that everything is equivalent. Generics, for example, are all assumed to be the same as the brand product. During the pandemic, the FDA halted foreign and even many domestic inspections. Even in normal times, there are still things an FDA inspection won't always catch (like the employee running down the hallway with bags of shredded documents as described in Catherine Eban's book, Bottle of Lies). Many inspections are announced beforehand so companies will be able to prepare. In other words, there is always a danger of low quality drugs entering pharmacy supply chains. Counterfeit products are also an issue.
Even at our hospital, we don't have the manpower, space, or equipment to test everything when it arrives so we prioritize drugs for testing. Some of the considerations include the manufacturer's Form 483s from the FDA, whether the company is the sole source of a drug, how much a drug costs and how profitable it is to counterfeit, among other things. Typically, however, that information can be months or even years old. Current prediction models tend not to fare well when faced with unexpected events – like the COVID-19 pandemic. They are also not always good at predicting human behavior.
Heather's work looked at how a serious gaming approach could simulate how humans react in a pharmaceutical environment. If we can understand how humans behave – and the quality shortcuts they may take in the pursuit of profit – it may help us to understand where the biggest risks lie and help to improve current risk prediction models.
To learn more about Rober and Heather's work, read the full feature in The Medicine Maker
Receive content, products, events as well as relevant industry updates from The Analytical Scientist and its sponsors.